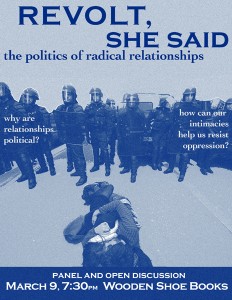 Why are relationships political issues? What does it mean to have a relationship that resists an oppressive model?
Pleasure, vulnerability, the panopticon, Psyche, Melusina, intimacy and the empire, patriarchy, resistance and the intimate sphere, are some of the things we want to talk about.
Brief lectures by Corina Dross, Bronwyn Lepore, Kristen Asher, Fulvia Serra and Jen King.
Open discussion to follow.
Jini Kades and Jiulianne Kornacki will be facilitating.